Welcome to Our In-house full Custom picture framing service available for -
Photo framing | Poster framing | Oil painting stretching and framing | Sports Jersey and T-Shirt Framing | Jigsaw puzzle framing | certificate framing | 3-D shadow box objects picture framing | Tabletop glasses | Display Glass box case | Cabinet Glass
Need picture framing services? Highest quality products at a very best price. Have best professional service at our picture frame shop. Most recent high-tech machines in our process. Very highly Recommended by costumers.
Best-in-class interactive full-service picture frame shop. In Picture framing business since 1949.
For all your framing needs, you can count on us. Come at our Frame Shop, to get the job done!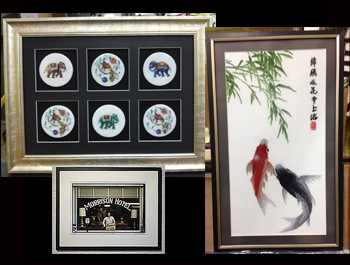 We do all kinds picture framing work for the type of material like a poster, photos, tapestry, oil painting, 3D objects framing, Chinese scroll painting framing, T-shirt framing, antique dress framing and also any type of framing to your request. We have a wide selection of more than 300 type of frame moulding and matt board colour range for your choice.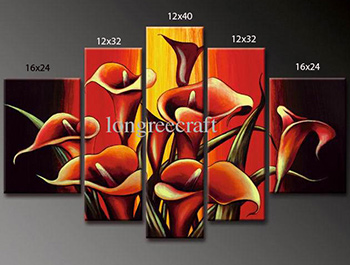 Oil painting wood bar wrap stretching gives a frameless look for the oil painting. It is the cheapest way of displaying the painting and preserving it from cracking. Oil painting Stretched can be framed later, if it bore you. Oil painting Stretching is the first step of oil painting framing.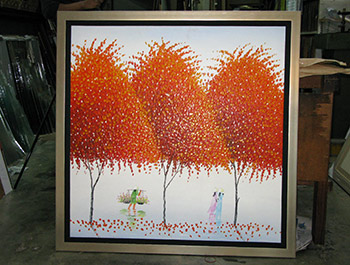 Oil painting framing is the next step for painting displaying and preserving. Framing it protect the edge from peeling and damaging. Oil painting is a not only a art it gives prestige look to the house. It is like dress or jewellery to the house, it should be framed to look expensive and give proud, prestige look to the house.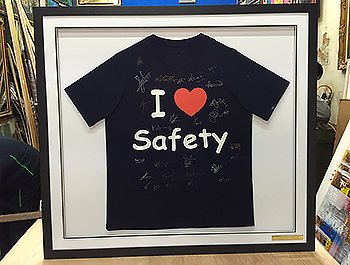 Jersey and T-shirt Framing can be framed in slight depth box-frame. We expertise in stretching it any possible without any crease before framing.Then is placed on a contrasting background and framed with simply frame. It is framed to keep it as a remembrance or presented to someone special.
Mask, shoe or glove, nearly anything can be possibly framed. The item displayed, can bring out memories and reflect their unique style appreciating art.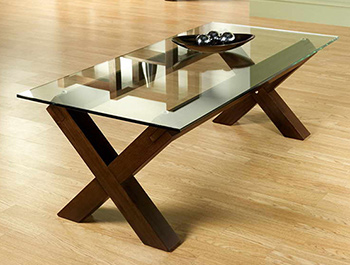 Table Top Glass- We cut glass for table any size and shape, it can be round, straight edge, bevelled edge, curved edge or any other odd shaped edge. The corner can be straight blunted corners or round corners to be any radius. The quality of glass can normal or tempered.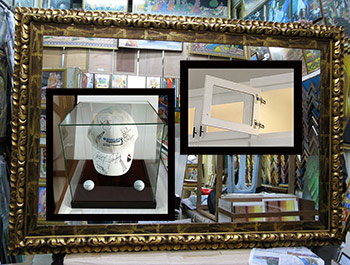 We do the custom size of framed mirrors according to your wall size to be covered. Framed mirror have the flexibility of changing from place to another. We have normal and bevelled mirrors.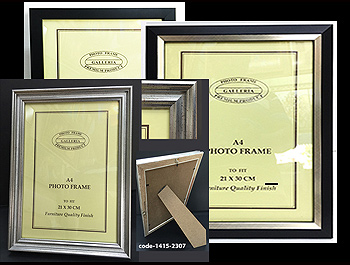 We sell ready-made picture frames for standard sizes like 4R, 5R, 8R, 10R, A4, A3, A2, A1 or for a mass order we could customize the size according to your specification and requirement. Email us-ansapicfr@yahoo.com.sg or WhatsApp us 98804415 (Anwar) for your enquiry.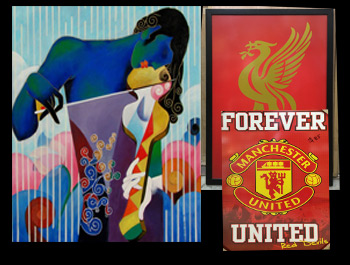 We have collection arts from Spain, Italy, France, India, China, Vietnam, Cambodia, Indonesia and India. We keep stock of oil painting of the size stated in the web catalogue and also customized the size for you according to your specification. The displayed painting mostly can view in our showroom in 29 Kerbau Road, Singapore 219164.
About-Our Picture Framing Shop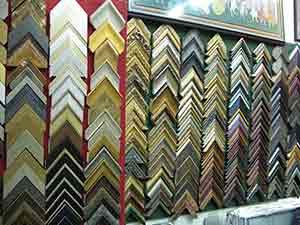 Our aim is providing the best touch of craftsmanship in the art of picture framing for your needs. We are specialized in providing creative picture framing for all kinds precious artworks to a piece of rolled paper to be transformed into the spectacular framed piece of art. Picture framing is involvement of combination of design, colour coordination and craftsmanship. Creatively framed pictures turn houses into homes, gives a character to an office and add colours, character, and interest to interior space. A well-framed picture is like a piece of furniture and it will last for years, it will encapsulate memories and achievements, providing a talking point for all who view it.
We have a vast choice of frame mouldings available in today's market. Regardless of what level of quantities and requirements, we will provide our best service to your top level of expectation. Our Company is conveniently located in "Little India Art Belt" and easily reachable by Little India MRT. It is in middle of Singapore and it is in town, easily accessible from all part of the island.
Business Hours-Our Picture Frame shop
Sundays and Public Holidays 10.30am to 3 pm
Address: 29 Kerbau Road (Little India), Singapore 219164
Tel: 62955284, 62956605 H/p: Anwar- 98804415 
Opening Hours
We opens 7 days a week. Please visit us or contact us by phone.
Tel-62956605, 62955284
H/p call or Whatsapp- 98804415
Opening Hours
Mon-Sat 9.30 am to 8.30pm
Sun- 10.30am to 3.00pm
Public holidays-call opening hours.
To Get to our Picture Frame Shop - Just Key in 219164 in Smartphone Google Map App, it will guide you to our Shop.
By Car-From Serangoon Road turn left before Indian temple Veeramakaliamman temple to Belilious Road, then take the first left turn to Belilious lane, come to end is Kerbau Road. Shop located at Belilious Lane Kerbau Road corner. Singapore 219164.
By MRT-Exit E to Buffalo Road-turn left to the carpark and turn right at the row of shops at Kerbau Road
By Bus-Get Down At Tekka Centre (Tekka Market) bus stop on Serangoon Road, walk along the flow of traffic, turn at second road on the left at Kerbau Road and look for no.29